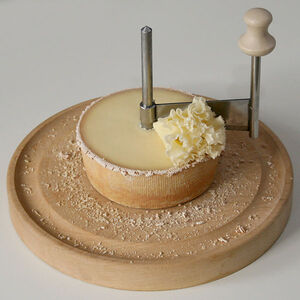 About Tête de Moine
Edit
Tête de Moine is a Swiss cheese. Its name, which means "Monk's Head", is derived from its invention and initially production by the monks of the abbey of Bellelay, located in the community of Saicourt, district of Moutier, in the mountaineous zone of the Bernese Jura, the French-speaking area of canton of Bern.
The cheese is eaten in an unusual way: it must be carefully scraped with a knife in order to develop its scented flavours.
Tête de Moine is currently produced by fewer than 10 cheese dairies of the Jura Mountains area of Porrentruy, District of Franches-Montagnes, both situated in the Canton of Jura, as well as in Moutier and Courtelary, in the Bernese Jura.
The monks started to manufacture this cheese more than eight centuries ago. Writings from 1292 attest that the cheese of the abbots of Bellelay had acquired such a reputation that it was used to pay the royalties of the stockbreeders to the farms' owners, to regulate litigations, being offered as presents to the prince-bishops of Basel or even as currency. The cheese was named Tête de Moine two centuries ago by soldiers of French Revolution, who, having expelled the monks, discovered cheese coins stored at the bottom of the large cellars. They adopted the manner of scraping cheese to consume it with the tonsure of a monk.
Community content is available under
CC-BY-SA
unless otherwise noted.