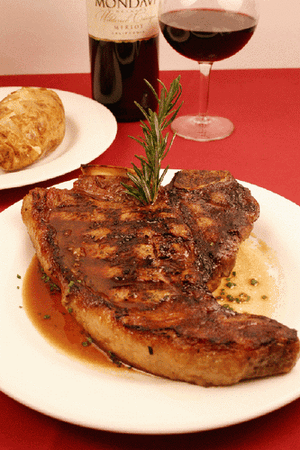 About T-bone steak
Edit
Beef T-bone steak is simply recognized by its T-shape bone. It comes from the center section of the short loin, between the porterhouse and club. It is very similar to porterhouse steak except it has a smaller section of the tenderloin and a smaller tail, with a fine-grained shell. The main difference between T-bone and Porterhouse steak is that T-bone steak contains a portion of tenderloin muscle measuring at least half a inch across the center, while Porterhouse steak contains a portion of the tenderloin muscle measuring at least 1¼ inches across the center. It should be cut from 1 to 3 inches thick. T-bone steak can be found generally in groceries stores where it can be bought fresh. T-bone steak is generally cooked by dry-heat methods such as grilling, pan-broiling or broiling at a temperature of about 145°F to 160°F. The preparation time depends on the cooking method and on the temperature but it is generally between ten to twenty minutes; in order to grill T-bone steak it takes about ten to sixteen minutes depending on its thickness. T-bone steak has to be cooked as soon as possible after defrosting.
Community content is available under
CC-BY-SA
unless otherwise noted.