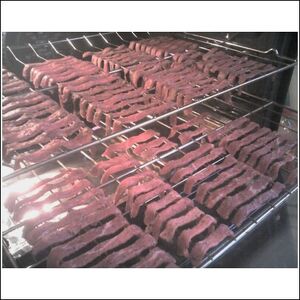 Prep Time: 10 min.
Marinade time: 24 hours
Seasons: 2 pounds of Beef
Description
[
]
This is an easy to prepare Beef Jerky Marinade. Its unusual flavor is a welcome change from the same old beef jerky marinade flavors commonly available. Thats the wonderful thing about making your own Homemade Beef Jerky, You can choose the flavors you want!
Ingredients
[
]
1/4 cup of Soy Sauce
1 Tablespoon Worcestershire sauce
1/4 teaspoon black pepper
1/4 teaspoon garlic powder
Directions
[
]
Mix all of the ingredients thoroughly in a mixing bowl.
To use the Beef Jerky Marinade Pour over 2 pounds of thinly sliced beef, cover, and allow to marinate for 24 hours in the refrigerator
Prepare the beef jerky as you normally would in your Dehydrator or using your Oven
Contributed by
[
]
For information on making Homemade Beef Jerky in your Oven See: Oven Beef Jerky