Description
Edit
This is adapted from James Beard's great Tamale Pie recipe. It looks splendid cooked and brought to the table in a colorful casserole.
Contributed by Catsrecipes Y-Group
Source: The Fannie Farmer Cookbook by Marion Cunningham
Serves 6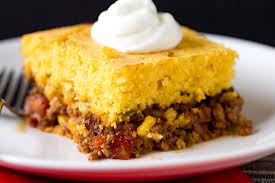 Ingredients
Edit
Directions
Edit
Bring the water to a boil in a 3-quart saucepan.
Meanwhile, stir the cornmeal into the 2 cups of cold water (this helps prevent lumping) and stir this into the boiling water.
Continue to stir while the water returns to a boil.
Turn the heat to low, stir in 1½ t of the salt and the butter, cover, and simmer 30 to 40 minutes, stirring often.
In a large frying pan, mash the sausage and cook over medium heat until it begins to lose color.
Add the chili powder and cumin, stir, and cook about 5 minutes.
Add the garlic, onions, green pepper, celery and remaining salt.
Stir and cook until the vegetables are limp.
Crumble the beef into the pan and mash and cook until the raw color disappears.
Add the tomatoes, corn, and green chilies (and jalapeño pepper, if used), and let the mixture simmer for 15 to 20 minutes.
Grease or oil a large baking pan at least 10 x 14 x 2 inches.
Spread ⅔ of the cornmeal mixture on the bottom and sides of the pan.
Spoon in the filling and distribute the olives evenly over.
Spoon the remaining cornmeal over the top and sprinkle with the cheese.
Bake in a 350°F oven for about 1 hour.
Community content is available under
CC-BY-SA
unless otherwise noted.