Description
Edit
Indian spices liven up this homemade barbecue sauce: this tangy Indian sauce is made with olive oil, real ketchup, herbs, and spices, and is good for grilling, roasting, or frying. Keep the other condiments mixing to help maintain its tangy consistency, as it then keeps a red-hot, savory aroma with the espresso, sugar, and Coke content.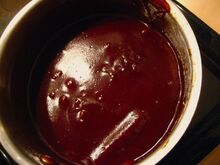 Ingredients
Edit
4 tablespoons olive oil
4 teaspoons ginger paste
4 tablespoons garlic paste
4 teaspoons dried parsley leaves
1 quart ketchup
4 tablespoons Worcestershire sauce
2 tablespoons Tabasco
6 tablespoons malt vinegar
7 tablespoons Coke
7 tablespoons coarse ground mustard
7 tablespoons espresso powder
7 tablespoons brown sugar
3 tablespoons finely ground garam masala
1 tablespoon tandoori spice powder
1 tub yogurt, plain only, optional
Description
Edit
Heat the olive oil in a large, heavy saucepan over medium heat.
Add the ginger, garlic, dried parsley flakes and sauté until fragrant, 3-5 minutes, stirring frequently to prevent burning.
Add the ketchup, Worcestershire, Tabasco, malt vinegar and Coke and gradually bring to a boil.
Reduce heat and let sauce simmer until thickened.
Add the mustard, espresso powder, brown sugar, black pepper, garam masala, tandoori spice, and yogurt (optional), and let reduce for another 10-15 minutes. The sauce should be a dark red-brown and fairly thick.
Let cool completely, then store in glass jars until ready to use.
Community content is available under
CC-BY-SA
unless otherwise noted.