Description
[
]
Similar to the original FIlipino-style version used for barbecue, this red-hot, oriental barbecue sauce is made with authentic herbs and spices and is great on meat, chicken, and seafood. Soy sauce and rosemary sometimes work for this, too.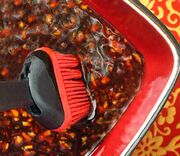 Ingredients
[
]
4 tablespoons oyster sauce
3 tablespoons ketchup
2 tablespoons molasses
1 tablespoon fish sauce
1 tablespoon lime juice
1 tablespoon honey
3-4 cloves garlic, minced
1 thumb-size piece ginger, grated
1 fresh red chili, minced
2-7 tablespoons chili sauce
Directions
[
]
Combine all ingredients in a bowl, stirring until they are well blended.
Taste-test your barbecue sauce, adding more honey if it is not sweet enough, or more lime juice if it is too sweet or too salty for your taste. Also, add more chili if desired.
It is great with steak, ribs, burgers, salmon, shrimp, poultry, and more. Spoon, funnel, or pour contents from the homemade barbecue sauce into a fresh glass or plastic jar and reserve this in the refrigerator.
Use the homemade barbecue sauce as a marinade for meat, poultry, or seafood, and brush it on while grilling, roasting, or frying later.
Nutritional Information
[
]
Servings: 5 teaspoons or 4 cups
Videos
[
]