Description
[
]
Similar to the barbecue chicken packed with real barbecue sauce, this oriental, bold poultry dish is made with real herbs and spices, enhanced with fish sauce, and grilled to red-hot perfection, as it is great with over rice or other main dishes and keeps a tangy aroma with the poultry and condiments.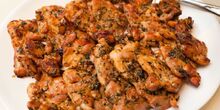 Ingredients
[
]
12 boneless or boned chicken thighs, breasts, legs, or wings
⅓ cup chopped Thai basil
⅓ cup chopped fresh coriander/cilantro
1 tablespoon minced ginger or (3 tablespoons galangal)
1 tablespoon minced chili or (4 tablespoons chili oil or powder)
1 ½ tablespoon soy sauce, dark only
1 ½ tablespoon fish sauce
1 ½ tablespoon olive oil
1 ½ tablespoon sugar, brown only
Directions
[
]
Combine all ingredients except chicken in a bowl. Mix thoroughly.
Add chicken and leave to marinate at least one hour, preferably longer.
Grill chicken in the barbecue grill until golden-brown and cooked through. Baste the chicken shortly, if desired.
Serve hot and plain over rice, or with other main dishes or side dishes.