~"Eggs, toast and butter, my dear... Wait, what's that green mushy stuff on my toast?!"~ what a Santa Barbra college student be like when his mom visits him.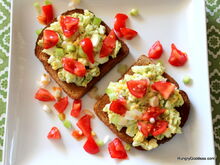 We all enjoy a classic slice of toast straight from the toaster, buttering it off and eating it up before we head out the door in the morning for work. But according to modern Southern Californian wisdom from the Holy Avocado Guy, we should enjoy more toast... with a smear of avocado and a slew of cool toppings.
It's easy! Toast some bread and slather on the green stuff!
Edit
All you need are the following classic Californian ingredients on hand:
As much avocado as you want... screw those portion sizes, I'm in for the lottery!
Toast straight from the toaster on a Saturday morning (toasters are for making toast!)
Salt and pepper, you can't forget those for a true classic...
Any topping you want... spaghetti, tomato (an Aussie fav), chicken, fried eggs, lettuce, etc.
Toast a slice of bread in the toaster. That's pretty simple to do.
Cut up an avocado and mash it in a small bowl.
Using a butter-knife, spread the green stuff on that toast!
Top it with anything you want, or just eat it as it is. Toast could never be creamier.
Community content is available under
CC-BY-SA
unless otherwise noted.