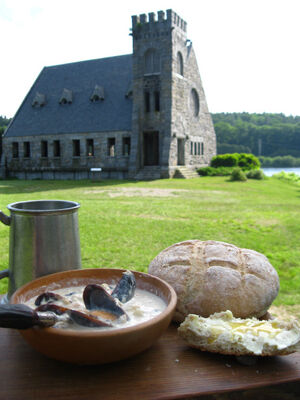 Ingredients
Edit
1.5 oz salt pork or thick cut bacon, diced
1 lb potatoes (about 2 medium), chopped into 1/2″ cubes
1 yellow onion, finely diced
1.5 lb fish (we used salmon, haddock, and cod), about 2 fish or 4 fillets, cut into 1″ chunks
2 c water
1 cup heavy cream
12 oz can evaporated milk
2 tsp salt
1 tsp pepper
~1/2-1 cup crab meat (imitation is fine)
around a dozen mussels (precooked are fine)
Directions
Edit
Place the fish (about 1 fillet) in a pot with 2 cups of cold water. Bring to a boil and boil it for about 10 minutes.
While that is cooking, fry up the salt pork (or bacon) over medium heat. Once the bits are beginning to turn crispy and brown, add the diced potato and cook for 5 minutes over medium-high heat. Make sure to stir frequently. By now the fish broth should be done, so add it and the fish to the potato, then spread the remaining cubed fish on top of everything. Let this mixture bubble for about 10 minutes on medium-high.
At this point, if your pan won't hold an additional 3 cups of liquid, transfer everything to a larger pot. Add heavy cream, evaporated milk, salt & pepper, crab meat, and whole mussels still in the shell to the pot. Bring it all to just under a boil and then reduce to medium-low. Cover your pot and simmer the stew for about an hour.
To serve your stew, ladle it into bowls and garnish with additional pepper. To really round out the meal, serve your stew with other original components from the Song of Ice and Fire book like crusty fresh bread with butter and honey, mead, and cider.
External Links
Edit
Community content is available under
CC-BY-SA
unless otherwise noted.