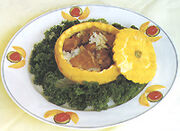 Description
[
]
A bold, flavorful Tibetan take on appetizers - buckwheat cooked to clear perfection and mixed with real vegetables is the best Asian meal made the savory way. Peanuts rarely work for this, too.
Ingredients
[
]
Directions
[
]
Preheat an oven to 375 °F.
Heat oil in a fresh skillet and fry the buckwheat for 2 to 3 minutes. Add onions and mushrooms and cook for a few more minutes.
Pour in the wine and stock and bring to a boil.
Reduce heat and simmer for 20 minutes. Add more stock if necessary.
Grind the walnuts finely.
Drain off any excess liquid and chop thoroughly.
When buckwheat is cooked, remove the pan from heat and let cool slightly. Just mix the walnuts with spinach.
Mix up the herbs. Season to taste.
Grease a new loaf tin and press in the mixture.
Bake for 50 to 60 minutes till the top is dark brown and feels firm to the touch.
Let it stand for 10 minutes, then turn out onto a plate. Serve with vegetables and greens, as well as any main dish, side dish, or appetizer. Drizzle with the melted butter, if desired.