Description
[
]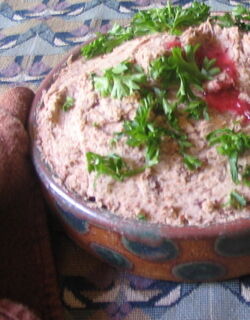 Tart and spicy, tkemali is used on most grilled meats and fish and just about everywhere in Abkhazia and Georgia.
Both Darra Goldstein and cookbook author Anya von Bremzen suggest the substitution of other kinds of unripe plums for the unobtainable tkemalis. The Georgian Feast recipe calls for Santa Anna plums. In Anya von Bremzen's, uses prune plums instead, in her recipe in her 'Please to the Table' book, an anthology of recipes from the former soviet republics, .
Ingredients
[
]
Directions
[
]
Sterilize 3 one cup ball jars.
Cut the plums in half, cut out the seeds and put in a heavy pot with the water.
Bring to a boil, cover and cook til soft- about 15 minutes.
Meanwhile, grind everything but the green herbs in a mortar, to a paste.
Put the plums through a Chinois or food mill and return puree to pot.
Bring back to boil, add spice paste, and cook about 5 minutes, until thickened.
Remove from heat and stir in the herbs.
Pour hot into sterilized jars, and seal, if desired.
Otherwise, store in fridge.