Tom yum (Lao: ຕົ້ມຍຳ [tôm ɲam]; Thai: ต้มยำ, [tôm jam], tom yam in the Royal Thai General System of Transcription) is a name for two similar soups originating from Laos and Thailand. The Royal Lao version includes a pinch of rice in the soup, whereas other typical Laotian and Thai versions do not include rice as an ingredient. Tom yum is widely served in neighboring countries such as Malaysia, Singapore, and Indonesia, and has been popularized around the world.
Tom yum is characterized by its distinct hot and sour flavors, with fragrant herbs generously used. The basic broth is made of stock and fresh ingredients such as lemon grass, kaffir lime leaves, galangal, lime juice, fish sauce and crushed chili peppers.
Tom yum is usually made with prawns (
tom yum goong
or
tom yum kung
), chicken (
tom yum kai
), fish (
tom yum pa
in Laotian and
tom yum pla
in Thai), or mixed seafood (
tom yum thale
or
tom yum po taek
) and mushrooms - usually straw mushrooms or oyster mushrooms. The soup is often topped with generous sprinkling of fresh chopped cilantro (coriander leaves).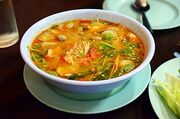 Community content is available under
CC-BY-SA
unless otherwise noted.