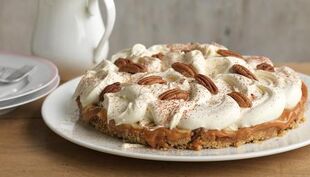 If you don't know what Banoffee Pie is, basically it is a layered pie made of biscuit crumbs, heated butter caramel & banana.
It makes a lovely dessert for a dinner party, or perhaps a British Themed Party as that is it's origin. So god save the queen here comes the recipe!
Ingredients
Base
100g butter, melted
250g digestive biscuits, crushed
Caramel
Topping
4 small bananas
whipping cream
grated chocolate
Directions
Base
Have a baking tin, bowl, non-stick pan and wooden spoon ready.
Make sure the digestive biscuits are crushed to breadcrumbs.
Tip all the breadcrumbs into the baking tin, then use a spoon to create a pie shell across the bottom and around the sides of the tin.
Chill this in your fridge/freezer for ten minutes and continue to the caramel.
Caramel
Melt the butter and sugar into a non-stick pan over low heat.
Stir this continuously until all the sugar has dissolved.
Add the condensed milk and bring this to a boil for about a minute. Stir this until a thick golden caramel forms.
Spread the caramel over the now firm base, and then leave to chill for an hour.
Garnishing and Finishing
After the hour chilling, remove the pie from the tin carefully and place it on your serving plate.
Slice the bananas into small chunks.
Create a layer of bananas on top of the caramel.
Spread the whipped cream on top so it covers the layer of bananas.
Tips
Make sure that you boil the filling for at least a minute to get a nice texture.
A great garnish is Pecans to go on top of the whipped cream.
Community content is available under
CC-BY-SA
unless otherwise noted.