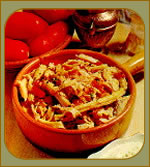 One either loves or hates this dish. It is made by layering onions and carrots on the bottom of a casserole, then adding a halved steer's foot with its meat, on top of which is laid beef tripe, garlic, leeks, and herbs. The whole is covered with apple cider and -- since Caen is a city in Normandy -- finished with a shot of Calvados. The casserole is then sealed under a paste of flour and water and baked for 10 to 12 hours. Finally, it is served cold in its terrine.
Community content is available under
CC-BY-SA
unless otherwise noted.