Description
Edit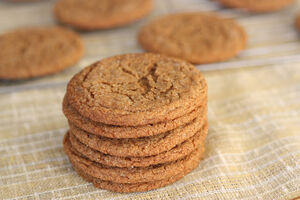 Mace and nutmeg are derived from the fruit of the same tree, Myristica fragrans, Mace is the thin, bright-red, lacelike covering over the shell of the nutmeg. Its flavor is similar to nutmeg's, but more delicate; if you don't have it on hand, substitute ¼ teaspoon freshly grated nutmeg.
For best results, the dough should chill for 8 to 12 hours in the refrigerator.
STORE: In an airtight container for up to 2 weeks. The dough may be wrapped well and refrigerated for up to 5 days. Freeze the baked cookies in a heavy-duty resealable plastic food storage bag for 2 to 4 months.
Adapted from Olive Oil Baking, by Lisa A. Sheldon (Cumberland House, 2007).
Makes about 36 cookies
Ingredients
Edit
Directions
Edit
Whisk together the olive oil, molasses, 1 cup of the sugar, eggs and vanilla extract in a large bowl.
In a separate medium bowl, combine the flours, baking soda, salt, cinnamon, ginger, mace and cloves.
Add to the wet ingredients and stir until well combined.
Cover and refrigerate overnight.
When ready to bake, preheat the oven to 350 degrees.
Line 2 baking sheets with parchment paper.
Place the remaining ¼ cup sugar in a small bowl.
Use the palms of your hands to form the dough into 1½-inch balls, then roll them in the sugar.
Place the balls on the baking sheets spaced 2 inches apart; bake for 10 to 12 minutes or until the tops of the cookies crack.
Let the cookies cool for 5 minutes on the baking sheets and transfer to a wire rack to cool completely.
Nutritional Information
Edit
112 Calories | 5g Fat | 1g saturated fat | 12 mg cholesterol | 90 mg sodium | 16g carbohydrates | 1g dietary fiber | 1g protien.
Community content is available under
CC-BY-SA
unless otherwise noted.