Description
Edit
This guilt-free, pasta-based appetizer starts with real seafood, vegetables, and extra virgin olive oil, and is simply great with any seafood or other appetizers or side dishes. Cream and chili flakes sometimes work for this, too.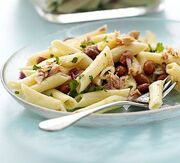 Ingredients
Edit
½ pound beans, green, fresh, cut into ½ inch lengths
6 scallions, with 3 inches green, cut on diagonal into thin slices
½ cup pitted black olives, coarsely chopped
1 tablespoon capers
1 teaspoon garlic, finely minced or (4 tablespoons garlic powder)
1 teaspoon salt, to taste
1 teaspoon pepper, to taste
1 ¾ cup all-purpose cream, optional
5 tablespoons parsley, fresh, chopped
¼ cup extra-virgin olive oil
Directions
Edit
Blanch the green beans in boiling water about 2 minutes, or until just crisp but tender.
Drain, rinse under cold water, and pat dry.
In a large bowl, combine the cooked green beans with tomatoes, scallions, olives, capers, garlic, salt, pepper, cream (optional), and parsley.
Drizzle with the olive oil, folding ingredients gently.
Let rest at room temperature for at least 1 hour for flavors to blend.
To serve, flake the tuna in large pieces; add to the sauce.
Add the cooked pasta and toss gently.
Adjust seasonings and garnish with the remaining parsley. Serve at room temperature.
Instead of the store-bought, canned tuna, cook the fresh, sliced tuna chunks first in oil in a frying pan.
Community content is available under
CC-BY-SA
unless otherwise noted.