About turkey sausage
Edit
Turkey sausage refers to ground turkey meat that has been mixed with spices. It is frequently, although not always, given a tubular shape by being wrapped in a thin membrane. It is also sold as patties and in bulk.
A variety of lean sausage is made from turkey meat and a mixture of fat, salt, and seasonings. A variety of sizes are available ranging from small link size portions to rings of sausage measuring approximately 12 inches in length. Turkey sausage is produced in various flavors, such as smoked, Italian, or hot and spicy, and may be available as cooked or uncooked meat. It can be served in sandwiches, soups, chili, on pizza, with pasta, in stratas, or with a variety of other types of foods.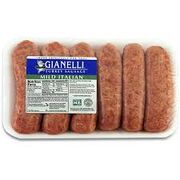 Community content is available under
CC-BY-SA
unless otherwise noted.