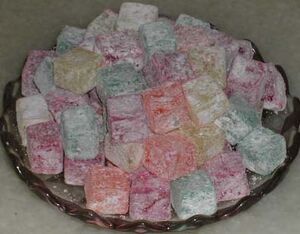 Called rahat loukoum or rahat lokum (rest for the throat) in Turkey, this rubbery-textured candy is extremely popular throughout the Middle East. It's made from cornstarch or gelatin, sugar, honey and fruit juice or jelly, and is often tinted pink or green. Chopped almonds, pistachio nuts, pine nuts or hazelnuts are frequently added. Once the candy becomes firm, it is cut into small squares and coated with confectioners' sugar. Turkish delight is available commercially in candy shops and some supermarkets.
Community content is available under
CC-BY-SA
unless otherwise noted.