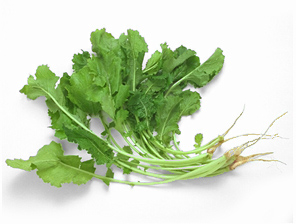 Name Variations
Edit
turnip tops
turnip salad
Hanover greens
About Turnip greens
Edit
Wikipedia Article About Turnip greens on Wikipedia
Long a popular soul food, turnip greens are slightly sweet when young but, as with aging turnips, can become quite tough and strong-tasting as they age. Fresh greens are available year-round, with the peak season from October through February. Choose those that are crisp looking with a good even color. Avoid greens that are wilted or off-colored. Refrigerate in a plastic bag for up to 3 days. Thoroughly wash and remove any thick ribs before preparing. Turnip greens may be cooked in a variety of ways including boiling, sautéing, steaming and stir-frying. They can be served alone as a vegetable or cooked and served with other greens. Canned and frozen turnip greens are also available in some regions. Turnip greens are an excellent source of vitamins A and C and a good source of riboflavin, calcium and iron.
Community content is available under
CC-BY-SA
unless otherwise noted.