Description
Edit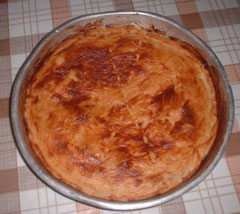 Cheese and yoghurt pie with no eggs. This recipe is for a medium size baking pan (around 30 cm diameter round baking pan).
Ingredients
Edit
Stuffing
Edit
For basting the filo sheets Edit
Directions
Edit
Mix all ingredients that are listed for the dough and knead well to make an elastic dough.
Seperate it in three parts.
One of those parts should be slightly bigger than the other two.
Since you will make three filo sheets, one for the bottom and two for the top of the pie make sure the bottom one is thicker (use the larger of the three parts of the dough).
Cover the dough with a towel and let it stand in the fridge for ½ hour.
Add some pepper.
This mixture will be used for basting the filo sheets.
Roll out the bottom filo sheet.
The sheet should come up above the top of the pan.
Spread the mixture on top of the bottom sheet and fold over the filo sheet.
Place it on top of the mixture.
Repeat procedure for the third filo.
The top filo sheets should be very thin.
Preheat oven in 180°C and bake for an hour.
Cover the top of the pie with aluminium foil if the top of the pie gets to browny and the baking time has not be completed yet.
Community content is available under
CC-BY-SA
unless otherwise noted.