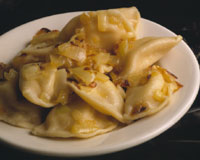 Ingredients
Edit
Directions
Edit
Let cool thoroughly before using.
(The filling can be made a day ahead and kept covered and refrigerated. Bring to room temperature before using.).
Add the egg yolks, mashed potatoes, melted butter and just enough of the water to form a medium-soft dough.
Turn the dough out onto a lightly floured surface and knead until smooth. (Too much kneading will make the dough tough.).
Divide the dough in half and cover with an inverted bowl.
Let stand for 10 minutes.
Roll out the dough until it is quite thin and cut rounds about 2 to 3 inches wide with a large biscuit cutter.
To each round of dough, add a spoonful of filling ad fold over to form a half circle.
Press the edges together with well floured fingers, making sure the varenyky are well sealed.
Transfer them to a lightly floured surface and cover them with a clean tea towel so that they do not dry out.
Drop a few at a time into the boiling water, stirring gently with a wooden spoon to separate them and keep them from sticking to the bottom of the pot.
Boil for 3 to 4 minutes, at which point they should be puffed and bobbing on the surface. (The thinner the dough and the smaller the pyrohy, the quicker they will cook.).
Transfer with a slotted spoon to a colander, drain thoroughly and place in a warmed bowl.
Drizzle with melted butter and toss gently to keep them from sticking together.
Cover and keep warm while you cook the remaining varenyky.
Community content is available under
CC-BY-SA
unless otherwise noted.