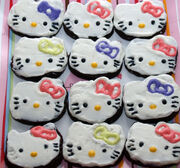 Nicole Willson. Boston resident. wikiHow admin. Foodie admin. Library science student. Human being.
As this is a wiki, please feel free to edit any recipes or articles I add. Please don't edit my userpage (unless it's to revert vandalism). Otherwise, please feel free to be bold. And yes, I know that this profile is kind of long and not everyone likes to read long things online, but it's my first detailed attempt so I hope you can bear with me as this page changes and evolves, as I'm sure my role here on Foodie will change and evolve as well. In the meantime, I will at least try to add pictures to break up the text monotony here.
Of course, putting in so many hours on a food wiki means I love at least two things: food and wikis.
Hopefully, you've figured out by now that this is a site for people who love food. That's what the term "foodie" means to me. I know that some people consider that the term foodie implies food snobbery or gourmand tendencies, but I've never really seen it that way. Hopefully, this is one of the issues people in the Foodie community will discuss as the site gets larger.
I hope that Foodie will become one of the largest food guides and food communities out there. I envision the food encyclopedia to be more geared at cooks than Wikipedia, with information on food preparation, selection and storage. In terms of recipes, I hope that Foodie ends up with a recipe collection that reflects all kinds of cuisines and diets. I've been a vegetarian twice and grew up allergic to milk, chocolate, wheat, red dye and citrus food so I understand the need for recipes geared at special diets.
This is also a wiki, which means that anyone can and should edit this site (including you). Not only do I love wikis, I love talking about wikis and I love helping people use wikis for the first time. So, if you have any questions, please don't hesitate to ask me. I was a newbie two years ago when I started editing and I still remember what it feels like. No one is born an expert on anything and there's still stuff I don't know. Don't be afraid to dive in and be bold. You can't break the wiki, I promise... You might have ideas for things I haven't even thought of.
About My Food Tastes
Edit
I think that individual preferences in food are often based on upbringing. I know that writing about food and working on a food website has caused me to reflect on many memories I've had about food. It is my hope that reading and writing for Foodie will provide that same experience for other people.
Personally, I grew up mainly in Pennsylvania -- about an hour outside Philadelphia. I am very lucky to have a mother, father and brother who are all great cooks. My Mom is second generation Greek, Boston born and bred. Her family ran an American-style family restaurant. The restaurant had a great pastry chef and if I can find the pie recipes for the restaurant I will post them at some point. While I hate the stereotype that all Greek-Americans are pizza parlor owners, I still believe that many of the best diners are run by Greeks. My Mom is the one who taught me how to appreciate bechamel sauce, crepes, lentil soup and Greek spinach with rice -- among other things. The poached eggs she makes for me on weekend mornings when I visit are one of my favorite comfort foods. One summer when I was about nine or ten, my Mom decided that everyone (including my college-age brother) would cook one night a week. It was one of my favorite summers because you never knew what you'd end up with (even if it was the "Make Your Own Omelet Night my brother hosted).
My Dad is Scots, Irish and Yugoslav, raised in Connecticut by way of Alabama. His mother Mary (of Mary's Perfect Turkey Dressing) taught him how to cook when he was in college. My Dad has taught me that some of the best dishes are the most simple ones, like omelets, chili made from less than 5 ingredients and roast chicken. One of my funnest food memories with my Dad was when I was in 2nd grade and Dad made me a grape jelly omelet. I expected it to be the yuckiest thing in the world. "Who puts jelly in grape omelets?" I thought (especially because I only really ate "plain omelets" at that point), but it was unexpectedly delicious. My Dad introduced me to dishes like pasta carbonara and changed my view of seafood as icky when he got me to try fried clams and crab cakes. While my family didn't eat a lot of Scottish, irish or yugoslavian food (or even all greek food for that matter), I do think there was a southern influence from my grandma Mary and a Mediterranean influence from my Greek grandparents (as a teenager I began to appreciate beans and fish).
I also really like food from other cultures than my own, particularly Middle Eastern Food and Asian cuisine (Indian, Thai, Chinese, Japanese). I also love coffee, green tea, independent coffee shops and making trips to Trader Joe's (for the shopping experience as much as for the food). I also like childhood foods like PBJ snd Grilled Cheese. I spent one of my 21st birthday parties (the daytime with parents one) at Peanut Butter & Company in Manhattan -- one of my favorite inexpensive NYC restaurants. I preceded to wake up in the shower naked the next morning. A few months later, one of my college housemates taught me how to make grilled cheese sandwiches in a George Foreman grill. I've never viewed grilled cheese the same way again. NYC also has a grilled cheese restaurant (surprise! suprise!) called Say Cheese! (another shocker!). I hope to go there some day as well. Another thing I learned in college, is that I don't like celery, an ingredient that seemed to be in nearly every dish served in my college's cafeteria.
Things I've Learned While Editing Recipes Wiki
Edit
I've learned that government websites provides a lot of great public domain recipes for things I'd actually cook. I used to have this mindset that most government recipes were outdated or that the healthy recipes were all bland and boring. I could be more wrong. I've found a diverse array of recipes from all kinds of government websites, not just nutrition or agriculture sites, but recipes from historic sites, presidential museums, the White House web page, web pages of Senators and even agencies like NASA and FEMA. These recipes represent a wide variety of cuisine and dietary needs. I like working with government workers because I'm always pleasantly surprised by the kinds of free (as in no-cost) sex and freely licensed information you can find on government websites. The sad thing is that so few people know what's out there.
I've dealt with government recipes from several US states and have observed some patterns. More dessert recipes involving cake mix seem to come from the Southern States. South Carolina has a lot of recipes involving ketchup and soda as marinades. They also must eat a lot of Shad in South Carolina since the Seafood Recipes page of the South Carolina Department of Agriculture, seems to be made up of at least 75% Shad recipes.
Community content is available under
CC-BY-SA
unless otherwise noted.