And the fantasy food that takes the crown is... NUKA COLA with 64% of the vote!!!! A special congratulations to the Fallout community!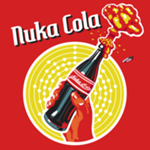 Don't forget...the top four fantasy foods from the 2015 Battle of the Fantasy Foods will be made in REAL LIFE at New York Comic-Con in October. Stop by our food truck in New York to try one of the foods!
Round Six
It's the final countdown... which fantasy food will rank supreme this year?? In 2013, the Krabby Patty won the championship! Last year, Gravity Falls persevered and Smile Dip won... will the Gravity Falls community win the votes this year or will Fallout push ahead?
By the way... great news, fantasy food fans! We're super pleased to announce that we're partnering with The Nerdist and Geek & Sundry this year at New York Comic Con. And as part of that partnership, Geek & Sundry has selected a special FIFTH item that'll be served from the truck: Critical Rolls! This savory roll is a tribute to Critical Role, the Geek & Sundry Dungeons & Dragons-themed show starring Matthew Mercer. Look for it at the Fantasy Food Truck at NYCC!
The winning food is now up to YOU! Round six ends on September 9 at 10AM Pacific Standard Time.
Vote away!
Round Six Polls
We will announce the winner on September 9! Click HERE to read more about the tournament and to track all of the rounds.
---
---
Community content is available under
CC-BY-SA
unless otherwise noted.