UPDATE!
Here's the gorgeous formal menu in all its glory. Congratulations to all our winners!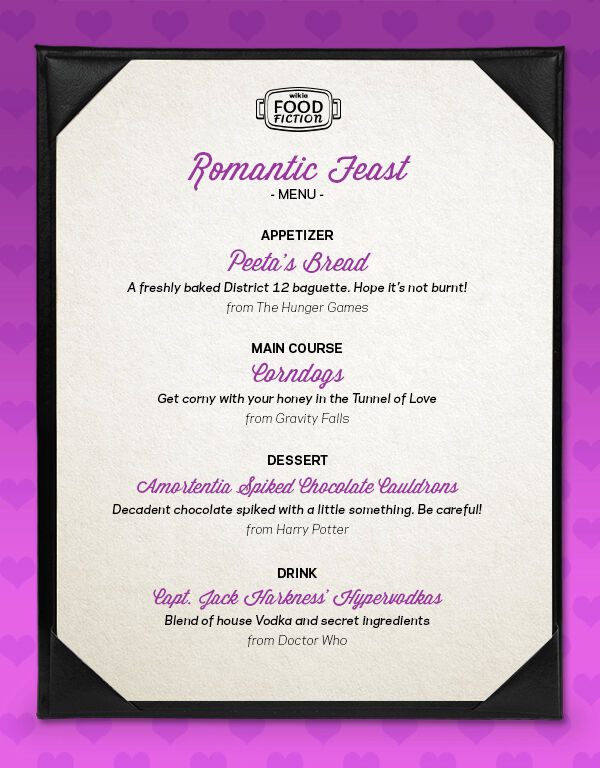 Hey there!
With hundreds of votes per poll...we have our winners! The designed menu will be posted later today.
Appetizer: Peeta's Bread (The Hunger Games) with 69 votes
Main Course: Corndogs (Gravity Falls) with 111 votes
Dessert: Amortentia-spiked Chocolate Cauldrons (Harry Potter) with 65 votes
Drink: Capt. Jack Harkness' Hypervodkas (Doctor Who) with 103 votes
Now THAT is a romantic feast that I want to dig into. Thank you everyone for voting! Stay tuned for the official feast menu.
Food Fiction
Love is in the air...and Valentine's Day is right around the corner! To celebrate this special day, we are hosting a Romantic Food Fiction Feast with romantic ingredients and dishes from our favorite fandoms. From bottled stars (The Fault in Our Stars) to the breadsticks from the popular date restaurant in Glee, we've covered it all.
VOTE for your favorite food in each course below! Don't forget to represent your community by spreading the word and encouraging other users to vote for your fictional food.
We will post the winning menu on February 18.
Appetizer/Snack Course
Main Course
Dessert Course
Drink Course
Community content is available under
CC-BY-SA
unless otherwise noted.