And the winner is... The Forgotten Beast with 37 votes! Congratulations!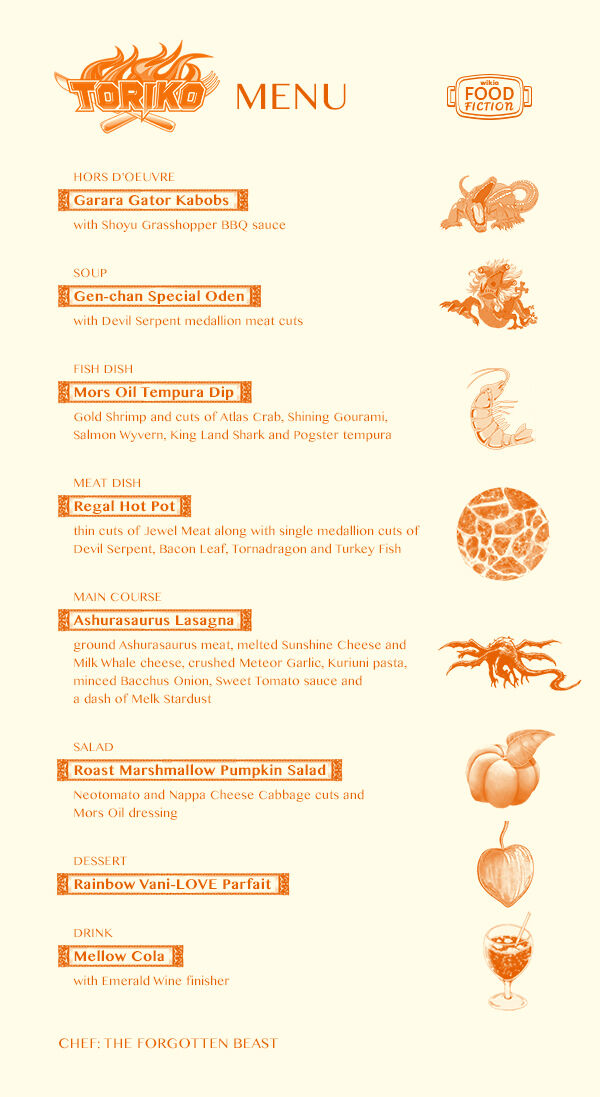 Contest
Hey there Toriko fans!
Wow...I have to say I think this is one of our best Food Fiction rounds so far! Everyone did an INCREDIBLE job coming up with a Full Course menu for Toriko. It was so hard to narrow it down to 4 finalists, but we are leaving it up to YOU to vote!
A special shout out to all of those who entered and to Roranoa zoro for giving us the idea to use the Toriko template to display the final menus.
Finalists
The Forgotten Beast's Full Course Menu
Course
Dish
Hors d'Oeuvre
Garara Gator Kabobs with Shoyu Grasshopper BBQ sauce
Soup
Gen-chan Special Oden with Devil Serpent medallion meat cuts
Fish Dish
Mors Oil Tempura dip with Gold Shrimp and cuts of Atlas Crab, Shining Gourami, Salmon Wyvern, King Land Shark and Pogster tempura
Meat Dish
Regal Hot Pot with thin cuts of Jewel Meat along with single medallion cuts Devil Serpent, Bacon Leaf, Tornadragon and Turkey Fish meat each
Main Course
Ashurasaurus Lasagna made from grounded Ashurasaurus meat, melted Sunshine Cheese and Milk Whale cheese, 2 cloves of crushed Meteor Garlic, Kuriuni pasta, minced Bacchus Onion, Sweet Tomato sauce/paste and a dash of Melk Stardust
Salad
Roast Marshmallow Pumpkin salad with Neotomato and Nappa Cheese Cabbage cuts and Mors Oil dressing
Dessert
Rainbow Vani-LOVE Parfait
Drink
Mellow Cola with Emerald Wine finisher

Honorable Mentions: to Gourm8t and Regulus22 for their Full Course Menus.


The polls will close on February 5, and we will post the winning menu on Recipes Wikia.
Community content is available under
CC-BY-SA
unless otherwise noted.