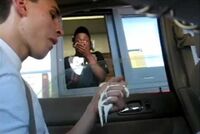 As fellow foodies, we probably have used the expression "cheesed off" in the past. But, have you heard about the popular new phenomenon that is sweeping the Internet? One of the latest trends has been the trend of Cone-ing off. In a regular Cone-ing off, somebody goes through a drive-thru and orders a soft-serve ice cream cone. The customer then proceeds to grab the ice cream cone by the ice cream instead of the cone handle part. Why would anyone have the desire to engage in this sticky hand prank? For the reaction of course.
Check out the video below and tell us your reaction!
Dialogue
Videos
Source
Community content is available under
CC-BY-SA
unless otherwise noted.