Ingredients
Edit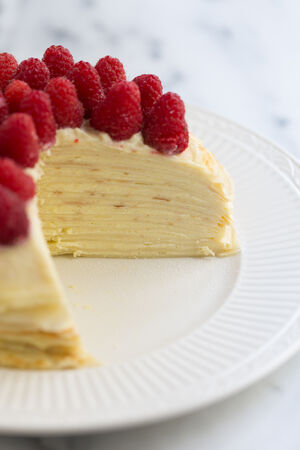 4 large eggs
1½ cups milk
1 cup water
2 cups flour
6 tablespoons melted butter
5 tablespoons sugar
2 teaspoons vanilla extract
Butter, to coat the pan between making each crepe
Vanilla Pastry Cream
Edit
4 cups half-and-half
1 cup granulated sugar
Pinch of kosher salt
10 large egg yolks
6 tablespoons cornstarch
8 tablespoons unsalted butter (cold), cut into 8 pieces
3 teaspoons vanilla extract
Instructions
Edit
Sweet Crepes
Edit
In a blender, combine all crepe ingredients and mix until smooth. Place batter in the refrigerator for at least 1 hour.
Heat an 8-inch non-stick pan and add butter to coat.
Pour ⅓ cup of crepe batter into the center of the pan and swirl to spread evenly. Cook for roughly 30 seconds or until the edges of the crepe appear loosened from the pan.
Flip the crepe and cook for another 10 seconds.
Remove crepe and stack on a place. Line the edges of the plate and stacked crepes with aluminum foil, to keep the edges from drying out.
Continue with the remaining batter and stack crepes on the plate.
Vanilla Pastry Cream
Edit
In a large saucepan, heat the half-and-half, sugar, and salt over medium heat and let simmer. #Stir to dissolve the sugar.
In a medium bowl, whisk the egg yolks until combined. Add the cornstarch and continue whisking for about 30 seconds.
Once the half-and-half mixture simmers, add ½ cup of the half-and-half mixture to the egg yolk mixture to temper it. Pour the egg yolk mixture back into the saucepan and stir constantly, for about 30 seconds.
Remove the saucepan from the heat and add the butter and vanilla. Pour into a large bowl, cover with plastic wrap, touching the mixture so skim doesn't form.
Refrigerate until chilled, at least 2-3 hours and up to 2 days.
Place 1 crepe on a large plate or flat dish.
Scoop ¼ cup of pastry creme on the center of the crepe, and spread evenly using an offset spatula.
Add another crepe on top and repeat until all crepes have been used.
For the final layer, spread ¼ cup of pastry cream on the top of the crepe. Individually arrange raspberries on top of the cream, applying additional cream to the bottoms of the berries for reinforcement.
Lightly dust the cake with powdered sugar.
Chill cake for at least 3 hours before serving. Apply more powdered sugar if needed.
Community content is available under
CC-BY-SA
unless otherwise noted.