Description
[
]
Phở Gà, or chicken pho, is the Vietnamese version of the chicken noodle soup. With a light, pure chicken broth and flat rice noodles, it is soothing comfort food at its best.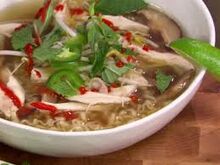 Ingredients
[
]
For the noodle and poultry base
[
]
1 gallon low-sodium chicken stock or (11 cups homemade chicken broth)
3 bone-in, skin-on chicken breasts
4 chicken wings
5 scallions, cut in half
4 cloves garlic
2 cinnamon sticks
2 whole star anise
1 inch piece fresh ginger, peeled and cut into coins/rounds
 ¼ cup dry shiitake mushrooms, rehydrated in warm water for 30 minutes and thinly sliced 
3 tablespoons fish sauce
2 packages dried, thin rice stick noodles
For garnishing
[
]
1 cup fresh bean sprouts
1 jalapeño, thinly sliced
couple sprigs each fresh mint
Thai basil
fish sauce
hoisin sauce
sriracha or hot sauce
lime wedges
Directions
[
]
In a large Dutch oven or stock pot, bring to a simmer the chicken stock, chicken breasts, chicken wings, scallions, garlic, cinnamon sticks, star anise and ginger. Simmer for about 20 minutes.
Once the chicken breasts are cooked, remove them, set aside and shred when cooled. Continue to simmer all the other ingredients for 30 minutes. Then strain the broth through a colander to remove the solids and spices.
Add the mushrooms, fish sauce and noodles to the strained stock. Simmer until noodles are still al dente, 4 to 6 minutes. Scoop some of the noodles into individual bowls.
Top with some of the shredded chicken. Ladle lots of broth into each bowl.
Garnish with the bean sprouts, jalapenos and fresh mint, and serve with fish sauce, hoisin sauce, Sriracha or hot sauce and lime wedges, if desired.
Nutritional Information
[
]
Servings: 4 scoops per bowl
Videos
[
]