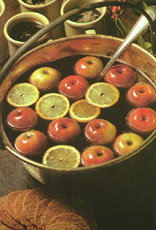 Norse for "be in good health", is an old toast and the origin of this word. Wassail the beverage is a hot, mulled punch often associated with Yuletide. Historically, the drink was a mulled cider made with sugar, cinnamon, ginger, and nutmeg and topped with slices of toast. Modern recipes begin with a base of wine, fruit juice, or mulled ale, sometimes with brandy or sherry added. Apples or oranges are often added to the mix. While the beverage typically served as "wassail" at modern holiday feasts with a medieval theme most closely resembles mulled cider, historical wassail drinks were completely different, more likely to be mulled beer or mead. Sugar, ale, ginger, nutmeg, and cinnamon would be placed in a bowl, heated, and topped with slices of toast as sops.
Community content is available under
CC-BY-SA
unless otherwise noted.