Description
This stone-cold cooler is made with real watermelon and mixed with fruit juice to clear, solid perfection. With frozen aroma and fruity flavor, every cold cup is watermelon fun!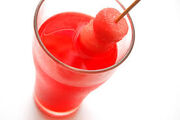 Ingredients
6 liters water
3 cups watermelon balls, frozen
3 cups fruit juice, with 2 cups grapefruit juice and 1 cup orange
2 tablespoons sugar, brown or white only
Directions
Watermelon Juice
In a blender or food processor, process chunks of seeded watermelon until liquefied.
Watermelon Citrus Cooler
Thread watermelon balls on skewers and freeze.
In a pitcher, blend watermelon juice, grapefruit juice, orange juice, and sugar until sugar is dissolved.
Chill thoroughly. Place frozen watermelon balls on skewer in each glass; fill with watermelon mixture.
Add ice to the glass and serve cold and plain or with any appetizer, side dish, or main dish.
Videos
Source
Community content is available under
CC-BY-SA
unless otherwise noted.