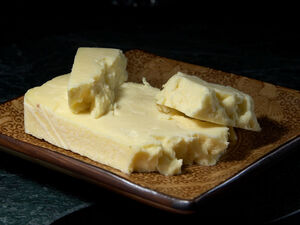 About Wensleydale
Edit
Wikipedia Article About Wensleydale on Wikipedia
Wensleydale cheese is a cheese produced in the town of Hawes in Wensleydale, North Yorkshire, England. There are two main types, both of which are suitable for vegetarians:
White Wensleydale is usually shaped into a flat disc that is highly pressed, and has a honey flavour to it

Real Yorkshire Wensleydale is usually shaped into a variety of weights moulds ranging in size from a small flat disc known as a "truckle" that is highly pressed, and preserved in wax, to several larger cheeses—it is a mild cheese with an acidic-honeyed flavour
Mature Wensleydale is a harder, more highly-flavoured version of the Real Yorkshire Wensleydale and highly prized by cheese connoisseurs
Extra Mature Wensleydale the strongest Wensleydale cheese, matured for nine months
Oak Smoked Wensleydale is cold smoked to produce a cheese with a special tang and texture

Blue Wensleydale has blue veins and is produced in large drums. It is highly flavoured but less salty than the classic British blue Stilton
Fans of Wallace & Gromit will recall Wallace's affection for this particular cheese.
Community content is available under
CC-BY-SA
unless otherwise noted.