Serving Size: 1/2 cup (4 oz.)
Total Servings: 4 (2 cups total)
Description
Edit
Enjoy melted white chocolate in a buttery and fluffy mousse mix, doused with a deliciously thick raspberry glaze. Using stevia as a substitute for sugar, you will be amazed at how sweet this sensually soft dessert goes down. Plus, impress your guests by serving each helping in an elegant glass with beautiful swirls of raspberry sauce garnishing your creation.
Ingredients
Edit
3/4 cup heavy cream
1/2 tsp. vanilla extract
1/4 tsp. stevia extract* (see the book Sensational Stevia Desserts for brand variances)
1 (4 oz.) bar of baking white chocolate, chopped
1/3 cup plain low-fat yogurt
Directions
Edit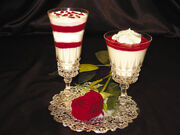 Whip heavy cream in electric mixer for about 1 minute. Mix in vanilla and stevia extract until stiff peaks form. Melt white chocolate in microwave at 50% power for about 1 1/2 minutes. Stir white chocolate until completely dissolved. Add to half of cream/stevia mixture and blend. Refrigerate the white chocolate/cream mixture in one bowl and the remaining whipped cream in a separate bowl for about 15 minutes.
Remove bowls from fridge and add yogurt to remaining whipped cream and whip with electric mixer until stiff peaks form. Gently fold yogurt/cream mixture into white chocolate/cream mixture. Place in dessert cups or ramekins and refrigerate for 2 to 3 hours. Keep up to 2 days in refrigerator.
Optional: Drizzle with Raspberry Sauce. Excellent!
The stevia amount listed is the minimum to use in the recipe. Since your sweetness preference and brand used may vary, you may want to add more.
Nutrition Facts/Serving
Edit
Calories: 331
Carbohydrates: 19g
    Total Sugars: 18g
    Fiber: 0g
Fat: 26g
Cholesterol: 68mg
Sodium: 62mg
Protein: 4g
Copyright ©2005 Sensational Stevia Desserts by Lisa Jobs
This Sensational Stevia Desserts recipe and excerpt may not be reproduced or copied without the expressed written permission from Healthy Lifestyle Publishing and the author Lisa Jobs.
Community content is available under
CC-BY-SA
unless otherwise noted.