Description
[
]
The key ingredients in this salsa are the ginger, horseradish, and vinegar. This easy, white-hot vegan dip is great on chips, meat, poultry, and seafood and keeps a warm taste with the vegetables, but the effort is just worth it.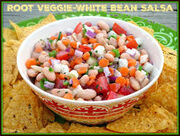 Ingredients
[
]
3 tbsp. ginger, grated
4 tbsp. real horseradish, grated
2 onions, sliced and diced, white only
5 tbsp. garlic, minced
2 tsp. vinegar, white only
1 cup white beans, cooked, optional
Directions
[
]
Mix all 4 ingredients, especially including white beans, with 2 teaspoons vinegar.
Spoon contents into the small bowl. Use on meat, poultry, seafood, chips, or other side dishes. Reserve the remaining homemade vegetable salsa in the refrigerator.
Videos
[
]