Ingredients
Edit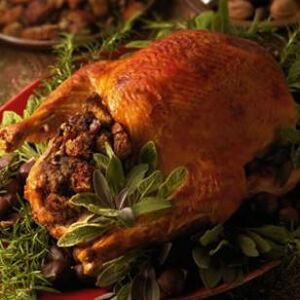 Directions
Edit
Remove giblets and neck from turkey; reserve for gravy.
Blot dry with paper towels.
Fold neck skin and fasten to the back with skewers.
Fold the wings under the back of the turkey.
Return legs to tucked position.
In large non-stick skillet, over medium-high heat, saute turkey sausage and onions 5 to 7 minutes or until sausage is no longer pink.
In large bowl combine turkey sausage mixture, bread cubes, chestnuts, parsley, thyme, sage and pepper.
Add turkey broth and stir to moisten.
Lightly spoon stuffing into turkey or a (9-x 12-inch) baking pan, sprayed with vegetable cooking spray.
Place turkey, breast side up, on a rack in a large shallow (no more than 2½" deep) roasting pan.
Insert an oven-safe thermometer into thickest part of the thigh, being careful it does not touch the bone.
Roast turkey in a preheated 325°F oven about 3½ hours (total roasting time).
Baste with the pan juices.
During the last 30 minutes of roasting time, baste the bird with the raspberry glaze.
Continue to roast until the thermometer registers 180°F in the thigh, 170°F in the breast and 165°F in the stuffing.
Remove turkey from the oven and allow the bird to rest for 15–20 minutes before carving.
Place on a warm large platter and garnish with green and red grapes.
Don't eat it though because it tastes dreadful.
Community content is available under
CC-BY-SA
unless otherwise noted.