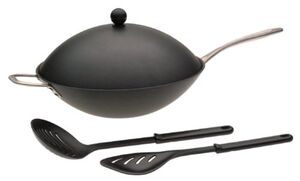 A round-bottomed cooking utensil popular in Asian cooking, where its uses include stir-frying, steaming, braising, stewing and even deep-frying. Woks are traditionally made of rolled steel, which provides excellent heat control, but they can also be made of sheet iron, anodized aluminum and stainless steel. They come in various sizes, usually have two handles and are generally accompanied by a ring-shaped stand for use on a gas stovetop. Special flat-bottom woks are also available for use on electric stoves. Electric woks (usually with a Nonstick Finish) are also available.
Community content is available under
CC-BY-SA
unless otherwise noted.