Description
[
]
Keep the real vegetables, pork ribs, and the chicken boiling to have its red-hot, cooking consistency with the water. This great Chinese soup is packed with homemade wontons and keeps a steamy aroma with the meat, poultry, and white pepper.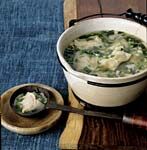 Ingredients
[
]
Directions
[
]
Place the ribs, chicken, ginger, scallions, and water in pot until the meat is tender (approximately 4-5 hours).
Chill for approximately 1-1.5 hours.
Mix together scallions, ginger, soy , vinegar, sesame oil, salt, pork, and the white pepper in a bowl.
Fill the wonton with approximately 1 teaspoon of filling. Then seal the wonton by lifting the two opposite corners together.
Cook for approximately 4-6 minutes Pour on the bowls with the wonton soup then serve warm and plain or with any main dish.
Videos
[
]